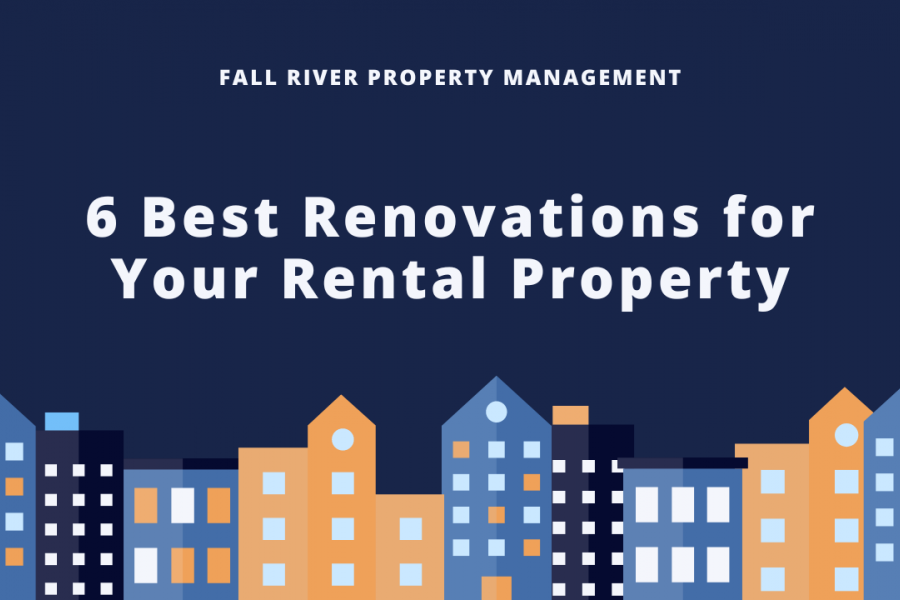 Are you having a hard time figuring out the best renovations to make for your rental property? This guide is the solution for you!
Renovations can improve the quality of life for your tenants. Upgrades such as better lighting, improved insulation, updated appliances, and modern finishes can enhance their living experience and increase tenant satisfaction. It will also allow you to advertise your property at a higher rent rate.
In this article, we'll cover the six best remodeling improvements for your rental property. Let's get started!
1. Bathroom Remodeling
A well-designed and modern bathroom can significantly improve the lives of your tenants, leading to potentially longer lease terms.
Renovating the bathroom can also help to prevent future maintenance problems and reduce the need for frequent repairs, saving you time and money in the long run.
Here are seven renovations you could consider:
Update Fixtures and Hardware: Replace outdated faucets, showerheads, towel bars, and cabinet handles with modern, durable options. This is a relatively affordable update that can give the bathroom a fresh look.
Fresh Paint: A new coat of paint can make a significant difference. Choose neutral colors that appeal to a wide range of potential tenants. Consider using moisture-resistant paint in bathrooms to prevent mold and mildew.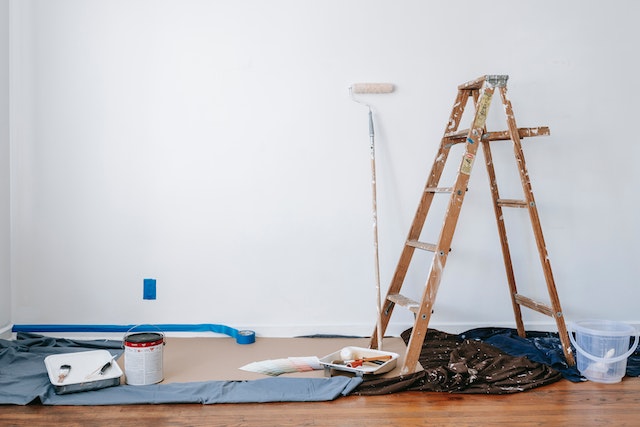 Tile Refresh: If the bathroom has tile, consider cleaning the grout, replacing damaged tiles, or adding a new backsplash. This can instantly improve the bathroom's appearance.
Vanity Upgrade: If the vanity or countertop is in poor condition, consider replacing it with a new one. Make sure it offers both storage space and a functional sink. A granite or quartz countertop can add a touch of luxury.
Lighting: Proper lighting can make a small bathroom feel more spacious and inviting. Update light fixtures to provide good illumination. Consider adding task lighting near the mirror and ambient lighting for the overall space.
Functional Storage: Tenants appreciate ample storage. If the bathroom lacks storage options, consider adding a medicine cabinet, shelves, or additional cabinetry. This helps keep the space organized and functional.
2. New Floor Installation
New flooring adds to the overall value of your rental property, allowing you to increase your rent price. High-quality, well-maintained floors create a positive first impression, setting the tone for the rest of the rental property.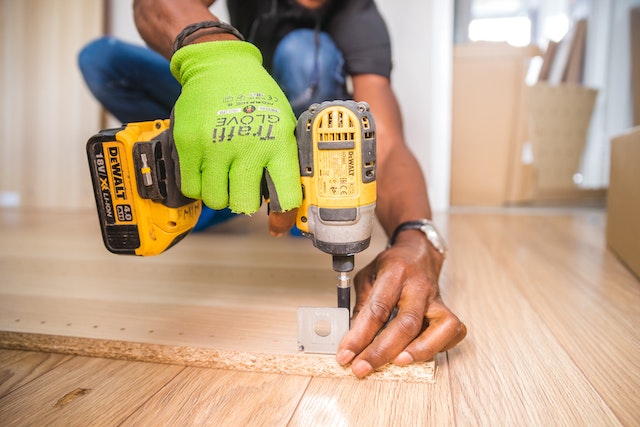 However, it's essential to balance aesthetics and practicality to ensure that the flooring will withstand tenant use while maintaining its visual appeal. Here are some of the best flooring options:
Luxury Vinyl Plank (LVP): LVP is a popular choice for rental properties due to its affordability, water resistance, and durability. It mimics the look of hardwood or tile but is more resistant to moisture and scratches.
Laminate Flooring: Similar to LVP, laminate flooring offers the look of hardwood or stone at a lower cost. It's relatively easy to install and is resistant to stains and scratches. However, it's not as moisture-resistant as some other options.
Porcelain or Ceramic Tile: These tiles are highly durable and water-resistant, making them suitable for bathrooms, kitchens, and high-traffic areas. They come in a variety of styles and can withstand heavy use.
Engineered Hardwood: Engineered hardwood combines the look of real wood with better moisture resistance. It's a good compromise between the elegance of hardwood and the practicality of other options.
Berber Carpet: If you're considering carpet, Berber carpet is a durable option due to its tight loop construction. It's less likely to show wear and stains compared to other types of carpet.
3. Open Floor Plan
Creating an open floor plan eliminates walls and partitions between the living, dining, and kitchen areas, creating a sense of spaciousness and fluidity.
However, it's essential to consider the property's layout and structural constraints before creating an open floor plan.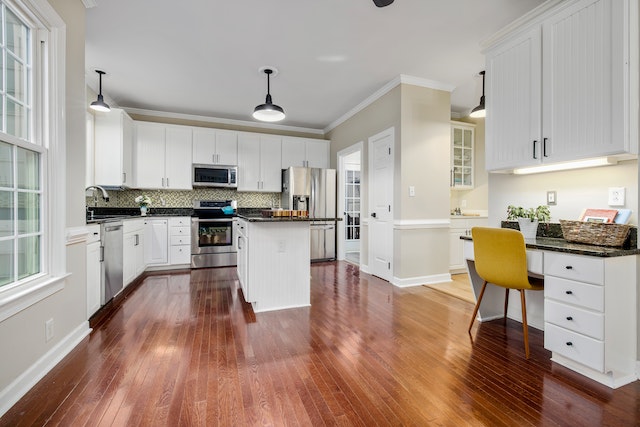 While open layouts have numerous benefits, there may be instances where maintaining certain divisions or walls is more practical based on the property's design and intended use.
Always weigh the pros and cons while considering tenant preferences and the feasibility of implementing an open floor plan in your rental property.
4. Upgrade Curb Appeal
In a competitive rental market, properties with upgraded curb appeal stand out the most. Potential tenants are more likely to show interest and make quicker decisions when the property's exterior is inviting and attractive.
Here are some curb appeal improvements you can consider:
Landscaping: Well-maintained lawn, trimmed bushes, and colorful flowers create an inviting first impression.
Front Door Upgrade: A fresh coat of paint, a new doorknob, and a welcoming color enhance the property's entrance.
Exterior Paint: Repainting in neutral colors improves the overall appearance and can boost tenant interest.
Outdoor Lighting: Installing lights for pathways and entryways adds safety and creates a warm ambiance.
Window Maintenance: Clean windows, repair broken panes, and ensure frames are in good condition for a polished look.
Moreover, demonstrating your commitment to maintaining a well-kept property shows tenants that you care about their living experience.
5. Kitchen Renovation
When renovating the kitchen of a rental property, it's important to strike a balance between cost, functionality, and aesthetics.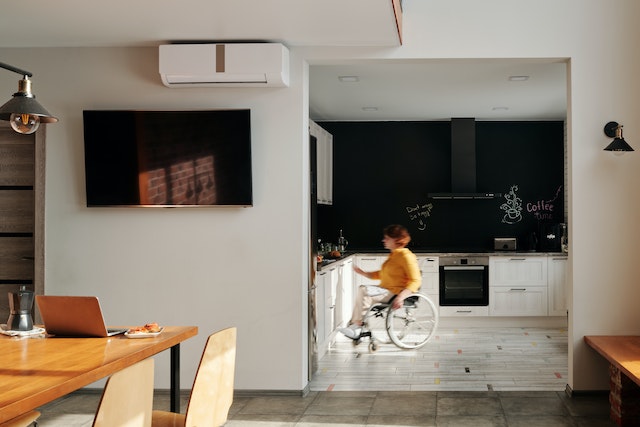 Here are six kitchen renovations that can add value and appeal to your rental property:
Update Cabinets: If the existing cabinets are in good condition but look dated, consider giving them a facelift. Repaint or re-stain them in a modern, neutral color.
Replace Countertops: Upgrading the countertops can make a significant difference. Choose a durable and low-maintenance material such as granite, quartz, or laminate.
Upgrade Appliances: While stainless steel appliances are popular, focus on functionality and durability first. Choose energy-efficient appliances that are easy to clean and maintain. A new stove, refrigerator, and dishwasher can make a kitchen feel more modern.
Add a Backsplash: Installing a stylish backsplash can elevate the kitchen's appearance. Consider subway tiles, mosaic patterns, or simple ceramic tiles. A backsplash adds a touch of sophistication and protects the walls from stains.
Improve Lighting: Adequate lighting is essential in a kitchen. Replace outdated fixtures with modern, energy-efficient options. Consider under-cabinet lighting for task areas and pendant lights above islands or dining spaces.
6. Repainting
Repainting is a relatively quick and cost-effective way to give the property a facelift between renting out your home.
When renewing the paint in your rental property, consider choosing neutral and universally appealing colors that can cater to a wide range of tenant preferences.
Ensure that the paint job is professionally done, with attention to detail, such as repainting trim and baseboards, to achieve the best results. Also, opt for durable, washable paint with a professional finish to ensure longevity and easy maintenance.
Bottom Line
Renovations can help you ensure that your property meets safety and compliance standards, improves your tenant's satisfaction, and commands higher rent rates.
However, it's important to note that while renovations can provide numerous benefits, they also require careful planning and consideration.
If you need the help of a professional property manager, call Fall River Property Management today!